Description
As Farm and Wilderness campers, teens build a strong sense of community and efficacy. During their 9 days on the farm, campers live in primitive Hollow Oak, an inclusive and gender-neutral communal space. Midway through the session, campers take a three-day backpacking expedition to Black Mountain, a 10-mile trek round trip. While hiking, campers work toward team-building and achieving both personal and group goals. Campers in this program care for our farm animals and choose from a variety of activities each day. Activities are unique in each session and may include swimming, archery, high ropes, sports, and arts & crafts.
Farm & Wilderness campers will enjoy sleeping under the stars in the fresh air.
Campers will enjoy sleeping with the fresh breeze of Hidden Villa night air.
Each overnight camp will be spread out throughout the farm and will have its own private sleeping area.
All pods are completely gender-inclusive! We welcome people of all genders to any pod.
All campers will be provided a camp mattress that is cleaned and disinfected before and after each session.
Image_List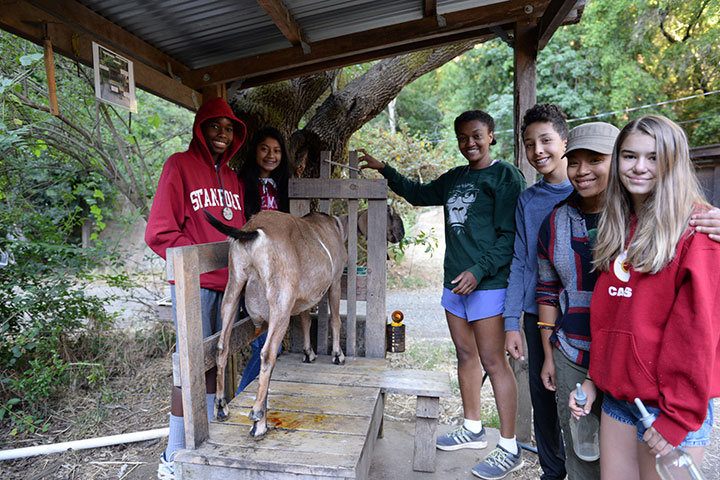 Who Is This For?
Youth entering 8th – 10th Grades in the fall.
Camp Sessions
Session 1: June 19 - 30
Session 2: July 3 - 14
Session 3: July 17 - 28
Price
$1,950
Financial aid is available on a limited basis, by request, for all youth and families with financial need. Applications will be thoughtfully considered on a case by case basis and we will notify you as soon as possible of your scholarship amount. In line with our camp values of inclusion, equity and accessibility, we strongly encourage children/youth who have experienced marginalization or underrepresentation to apply.
To apply for financial aid, please complete the "optional financial aid form" located in their UltraCamp portal during the registration process.
Registration
Registration for Hidden Villa Summer Camp will open on January 29, 2023 for all families registered for our 2022 season. Registration will be open to the entire community on February 1, 2023.