Description
As Farm and Wilderness campers, teens build a strong sense of community and efficacy. During participants 9 days on the farm, they live in primitive Hollow Oak, an inclusive and gender-neutral communal space. Midway through the session, campers take a three-day backpacking expedition to Black Mountain, a 10-mile trek round trip. While hiking, campers work toward team-building and achieving both personal and group goals. Campers in this program care for our farm animals and choose from a variety of activities each day. Activities are unique in each session and may include swimming, archery, high ropes, sports, and arts & crafts.
Image_List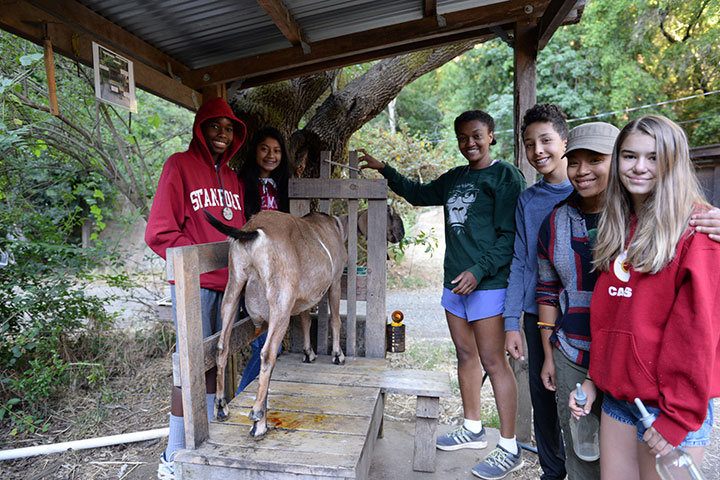 Registration
Please be sure to register for the appropriate session for your family: either "Farm & Wilderness – Paying in Full" or "Farm & Wilderness – Requesting Financial Aid".
Who Is This For?
Youth entering 8th – 10th Grades in the fall.
Duration
2 weeks with drop off on Monday morning and pickup the 2nd Friday at 9:45am.
Camp Sessions
Session 1: June 15-26
Session 2: June 29-July 10
Session 3: July 20-31
Session 4: August 3-14
Price
$1,575
Financial aid is available on a limited basis, by request, for all youth and families with financial need. Applications will be thoughtfully considered on a case by case basis and we will notify you as soon as possible of your scholarship amount. In line with our camp values of inclusion, equity and accessibility, we strongly encourage children/youth who have experienced marginalization or underrepresentation to apply.
Please register for a space designated for Financial Aid recipients. Once enrolled, your email confirmation will include further instructions regarding the Financial Aid Application.